Malpassi Filter King Regulator Large "V8" 85mm Black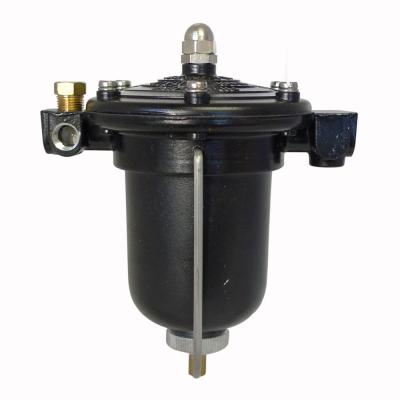 Genuine Malpassi "V8" High-Flow Filter King Fuel Pressure Regulator 85mm with 1/8" NPT female inlet and outlet ports so different fittings can be bought depending on your system requirements. Made in Italy. Malpassi fuel pressure regulators have been a common site within competition fuel systems on low pressure carburettor applications for many years. The Malpassi Filter King regulators are extremely popular as they both regulate and filter fuel without any restriction to fuel flow.

This FPRV8 Filter King Fuel Regulator is the larger of the two sizes available, commonly used on twin Weber or multiple carburettor set ups where greater flow is required. Measures 135mm high, 115mm wide. The 85mm is the diameter of the regulator body with the bowl measuring 55mm diameter by 65mm tall. Easily distinguished from the others as it is black in colour.

Small and precise pressure adjustments are made on the top by screwing the adjuster in or out after removing the cap nut.

Filter element inside is 10 micron. Has an 1/8" NPT female port on the outlet side for a pressure gauge to be screwed into. Supplied in this kit is a steel mounting bracket and hardware.

Please see linked below the polished Sytec bracket for fitment, glass bowl to enable the filter inside to be seen without the need to remove the bowl and the replacement filter elements including the high-flow and cleanable metal filter element.