THE TECHNICAL RACE WORKSHOP
We have some well oiled, experienced and technically competent motor racing experts in our team. Most of us have racing and race engineering backgrounds. We're always working with our customers to build solutions to problems. It's worth getting in touch if you have very specific needs, we're pretty resourceful, we have the kit and the know-how and we love a challenge!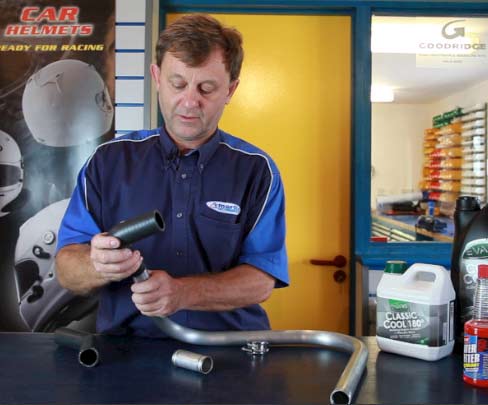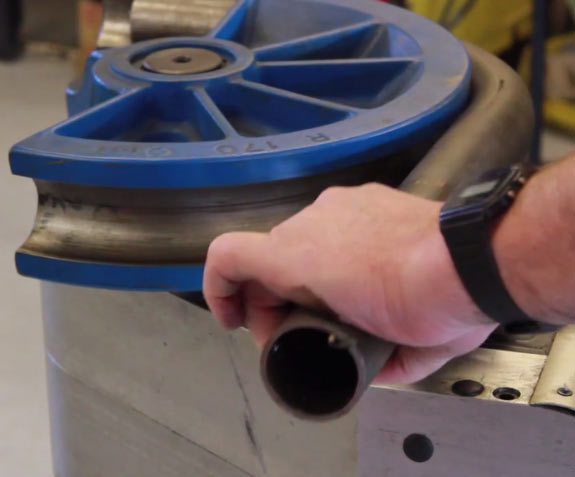 Above left is John assembling a custom coolant hose system for a customer including custom bent aluminium tubing with beads (manufactured to spec in our workshop). The system includes Samco Classic elbows from our shop shelf and all held together with stainless hose clips. Above middle is our state of the art Ercolina tube bending machine and formers for 1, 1 1/8, 1 ¼, 1 ½, and 1 ¾ inch outside diameter tube. We can bend both Aluminium tube and Steel tube and roll cage hoops from CDS tube. We welcome requirement drawings from customers and trade, once received we will make contact to discuss your needs and advise on price. Above right - assembling an induction system including an ITG air filter and a custom straight hose joiner with beads (manufactured in our workshop).
We make up all sorts such as non standard aluminium hose joiners. We bend roll cage, cut and bend tube and cut and bend aluminium and steel sheet to customer specs.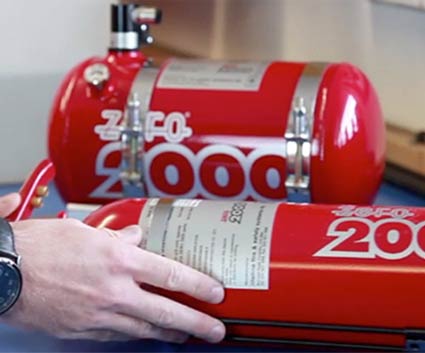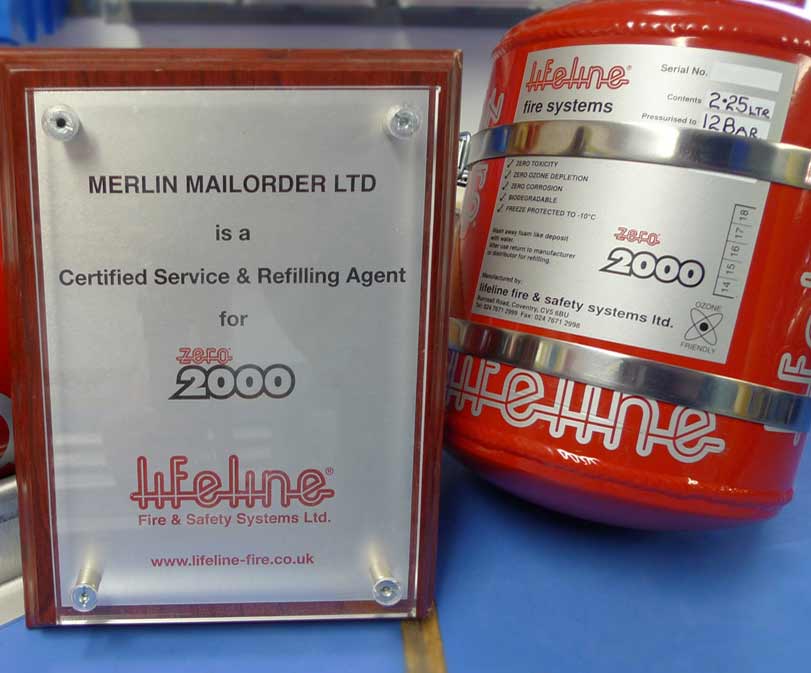 We service and refill SPA & Lifeline AFFF and Zero 360 Novec 1230 systems at our Merlin workshop. Call us for further information on 01249 782101
Your fire extinguisher needs servicing every 2 years. The label (on the bottle) will show the date of its last service. We stock the whole range of Lifeline and SPA extinguishers for motorsport.
We refill and service mechanical and electrical SPA & Lifeline fire extinguishers. This service is available Monday to Friday, often while you wait (no servicing on Saturdays - only drop off & collect). The process can take an hour, longer if the bottle has been set off. Please contact us before sending or dropping off your extinguisher so that we can confirm how long it will take. We also need to determine your bottle type as there are a couple that need to be serviced by the manufacturer.
Above right - we have an Intercomp Digital Spring Tester to check the rate on springs. This testing equipment will take springs up to 6 inches in diameter and 14 inches in length. Often a change of spring rate is needed but the specification of the original spring is unknown. If the spring is brought to us, or sent by post, we can measure the rate for you.
THE GOODRIDGE G-TECH WORKSHOP
We are an approved Goodridge technical centre. Our specialised Goodridge G-tec workshop is dedicated to the supply and assembly of Goodridge hoses. Here we tailor make brake and oil lines to your own specifications for motorsport and competition vehicles. We often find ourselves making one off adaptors for unusual Goodridge applications. We also stock a wide range of ready made oil and brake lines ready to go.

One wall of our Goodridge workshop features a massive array of both steel and aluminium adaptors, banjos and banjo bolts. On other walls are trays full of red and blue hose unions in all shapes and sizes and we have drawers full of unions for assembling brake and oil lines to customer specifications using our state of the art cutting, swaging and pressure testing machines.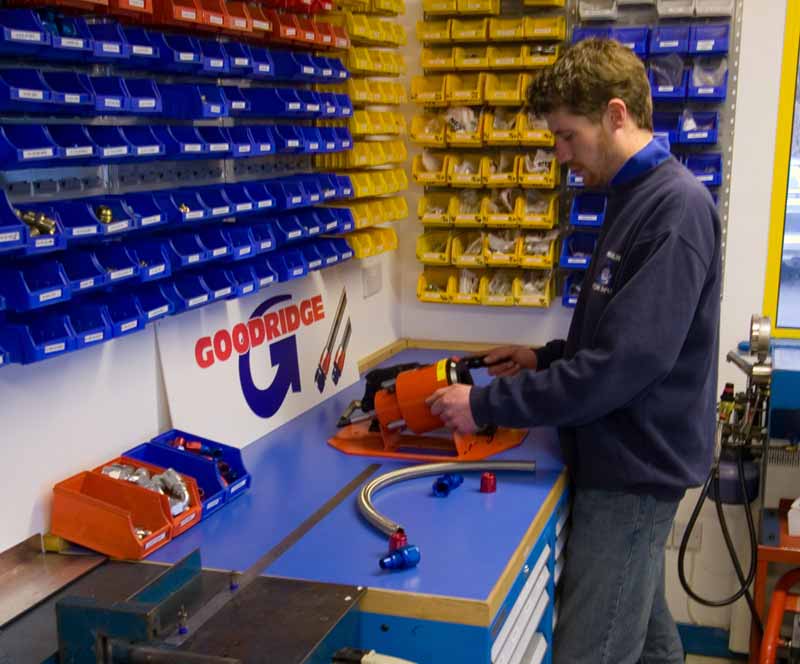 Merlin staff have years of experience in assembling hoses and helping customers select the correct unions. Customers are welcome to call in and have their brake hoses made up to replicate supplied patterns. We offer advice and technical expertise and, more often than not, hoses can be assembled while you wait if you are able to call in to our workshop.
If you're unable to visit our workshop, one way which allows a customer to 'test' assemble the hoses to their car is by allowing us to provide the unions and adaptors; the customer then plumbs the system to their car using PVC or similar cheap hose, and arranges the best pipe runs. The customer then returns the assemblies to us where they'll be made up with metal braided hose. This system works well as the customer can try several layouts, decide on the best one and get everything correct at the first attempt, saving money and frustration! Of course we will reimburse the cost of any unused parts that are returned to us in the same new condition.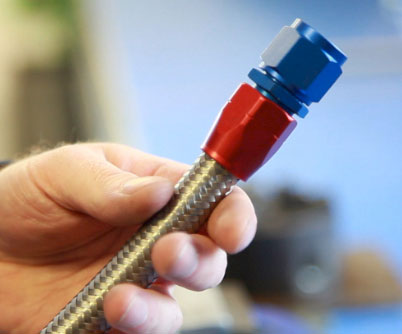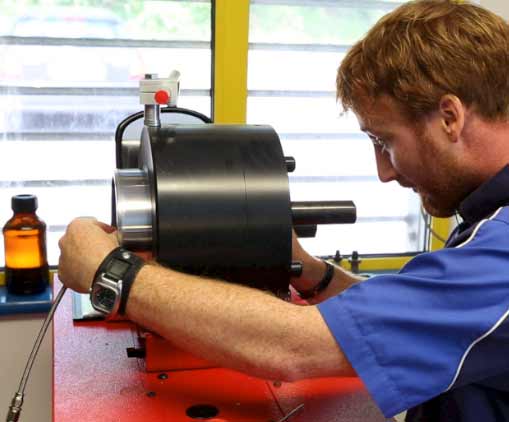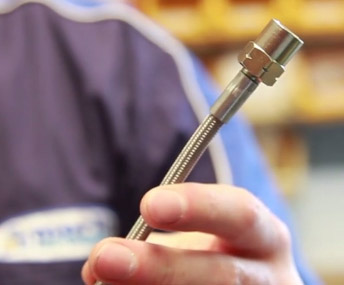 Along with the hose unions Merlin stock a range of oil coolers, take off plates and dry sump tanks.
Telephone and online chat lines are open Monday to Friday 9.00 to 5.30.