How to Find Us
Merlin is based in the Paddock at the Castle Combe Race Circuit in Wiltshire, this is where you'll find our shop, the Goodridge workshop and our sales office.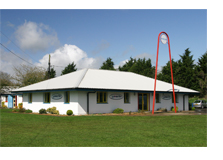 The Castle Combe Circuit is well signposted from Junctions 18 (Bristol) and 17 (Chippenham) of the M4 motorway. We're approximately 5 miles from Chippenham centre and 90 miles from London. Look out for and follow the brown tourist signs to 'Castle Combe Circuit' (with the chequered flag symbol).
The Circuit entrances are on the B4039. From either 'Quarry' entrance or the 'Competitors' entrance head right toward the Paddock. You can't miss us, we're covered in Merlin Motorsport signs! There's free parking on site.
Opening hours:
Monday - Friday 9.00am to 5.30pm
Saturdays - 9.00am - 3.00pm (Please Note - the track-side shop will be closed to visiting customers on Saturdays between November 6th and Saturday April 2nd but remain open to customers from Monday to Friday)
We also open Race days - 9.00am to 3.00pm
Merlin Mailorder Ltd, Castle Combe Circuit, Chippenham, Wiltshire, SN14 7EY