Millers CRX 75W90 NT Synthetic Gearbox Oil (1 Litre)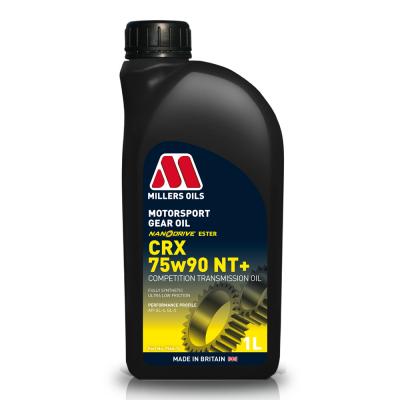 Millers CRX 75W90 fully synthetic gear box oil featuring Millers' unique Nano Technology. A competition based fully synthetic transmission oil with a blend of fully synthetic base oils and incorporating Millers' new Nano Technology additive chemistry to dramatically reduce internal friction and power loss.

The CRX 75W90 gear oil is designed for the lubrication of competition gearboxes such as manual transmissions, synchromesh, non-synchromesh, sequential gearboxes, transfer boxes and hypoid differentials without limited slip, which require API GL4 or GL5 performance.

Also recommended for modern transmissions where a fully synthetic oil is specified, especially for high performance road and trackday applications such as Hewland, Xtrac, Glebe Transmissions, ZF, Tran X and Elite Transmissions. (Please note,Millers CRX 75W90 gear oil does not contain friction modifiers).For plate type Limited Slip differentials, you must use CRX 75W90LS oil (linked below).

Supplied in 1 litre bottles.